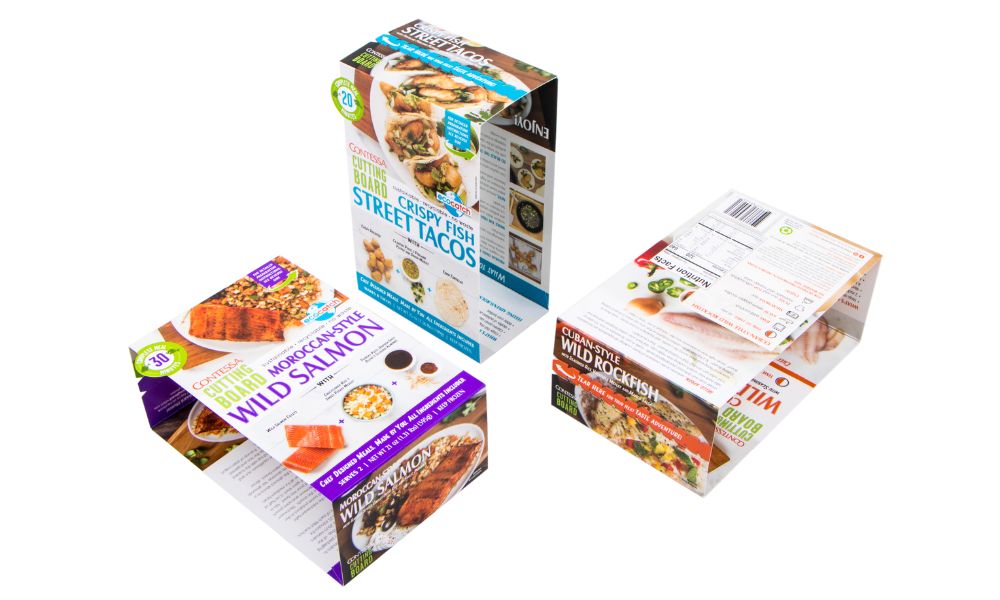 As writer Henry David Thoreau recognized, "It's not what you look at that matters, it's what you see." What do you see, especially when looking at a person, place, or thing for the very first time? Forming a first impression only takes around seven seconds, and our judgments—based on those very first impressions—can turn out to be right or wrong.
Today's marketplace is no exception regarding first impressions. We can't deny the influential power and potential those mere seconds of time have on a brand's overall success. What curious consumers see when they look at product packaging matters. If potential customers like what they see, they may even take the time to dive deeper to uncover what all lies beneath.
Modern brands must understand how to manufacture exterior packaging that pops—and maintains its appearance after repetitive handling. Coatings play a pivotal role in providing protective resistance and enhancing aesthetic appearance. Here is everything you need to know about coatings used in packaging in our image-keen world.
The Basics of Innovative Packaging Coatings
In the context of product packaging, creative design is the key to creating a one-of-a-kind first impression. The surface coating of packaging is one critical component of developing that iconic look. Let us explain the technicalities of today's innovative coating solutions for your perfected exterior design.
During the production process of custom product packaging, manufacturers apply a selected coating and finish to the surface of the printed box pieces. A coated finish provides protection against consumer handling while simultaneously offering aesthetic enhancement. Your choice of top coating gives the packaging an exclusive look and feel, further enriching the end-result design.
An applied surface coating can wow a consumer as soon as they see it, so getting the choice right the first time is in a company's best interest. The varied characteristics of the most common types of coatings can deliver different tactile experiences and affect perceived notions about value and quality.
Coating Characteristics To Consider
When learning everything you need to know about coatings used in packaging, there are several main coating characteristics to consider. Remember, the end goal of product packaging as a marketing tool is to create consumer interest, pique further curiosity, and impress the customer enough to generate a closed sale. For this reason, always keep your target audience and market sector in mind.
Closely evaluate the cost, durability, and universal visual impact each type of coating may have on your specific type of packaging materials. Weigh the quality of each available option versus the cost for the purposes of your brand's product. The three most popular coating types to select from are aqueous coating, UV coating, or soft touch coating.
Aqueous Coating
As the traditional default coating, aqueous (AQ) coating is the most popular option—unless you request an alternative for the selected packaging material. This water-based coating is a good, cost-effective choice for the majority of printed packaging materials due to its no-hassle efficiency. The eco-friendly clear coating dries quickly during the printing process, provides long-term protection against scratches and scuffs, and offers greater flexibility to resist cracking during folding.
Popular Applications
Aqueous coating is a common choice for rapid-moving consumer goods, everyday household products, food items, and more. Due to its variety of application methods, the durable, low-gloss polish may be considered food safe and FDA approved. Note that an AQ coating is a versatile solution that only applies to the entire surface of a printed material, not spot finishes in certain areas.
UV Coating
Alternatively, UV coating is a transparent liquid dried with an ultraviolet light machine, producing a glossy presence on a paper packaging surface. The fully professional finish enhances the vibrance of chosen colors and images with a noticeable allure of glossy sheen. Selected artwork, logos, and intricate details come to life and pop off the packaging, creating an eye-catching display. Compared to low-gloss aqueous coating, high-gloss or matte UV coating may suggest that a product is of more premium quality to consumers.
Process Perks
As a sleek finishing process, UV coating is assuredly water-resistant to protect the durability of chosen packaging materials. Manufacturers apply this coating to the whole packaging product, one specific side, or a selected area to bring intentional dimension and attention to targeted design features. For those focused on branding through packaging details, this specialty coating can increase consumer confidence in your brand's values and inspire repetitive sales in the future.
While this versatile technique works effectively to promote your brand on any paper-based products, UV is best for applying to more high-end rigid packaging boxes or corrugated packaging materials. Many modern, prestigious brands use a bold UV coating to highlight a luxurious look and top-quality feel.
Soft Touch Coating
Applied directly during the printing process, soft touch coating achieves a soft-to-the-touch feel and finish. This luxe-looking coating is popular for its ability to dry rapidly and leave a velvety texture on any printed packaging materials.
Advantages for Brands
The benefit of this option lies in its cost-effective durability and appearance. The coating type efficiently maintains the quality of printed artwork designs while providing an elegant, matte finish. Choose from different options depending on the thickness of your packaging material's surface.
How To Choose: Visual vs. Cost Benefits
Packaging design serves as an effective tool for branding. Innovative packaging not only protects the precious contents inside, but also elevates the comprehensive consumer experience. For this reason, the best coating solution is the one that suits your company's image and meets your budget. Take time to thoroughly plan out your design based on brand objectives or reach out to an experienced packaging expert for advice, guidance, or services.
Consider product compatibility with the requirements of your packaging design, materials, and overhead costs. Don't forget you can also add special aesthetic appeal with supplementary exterior finishes, stamping, embossing, lamination, and inks.
Custom Packaging Solutions: The Art of Creative Design
With unparalleled design experience in custom packaging, Golden West Packaging has knowledge of all the latest innovations and perspectives in the industry. We offer a range of popular packaging material options, including custom folding cartons to highlight your unique branding theme.
Peruse our website to learn more about the selection of sustainable styles, special finishes, and coatings we have available for your custom project. Golden West sets the gold standard for an out-of-the-box experience—request a quote today. We'll help you make a flawless first impression.