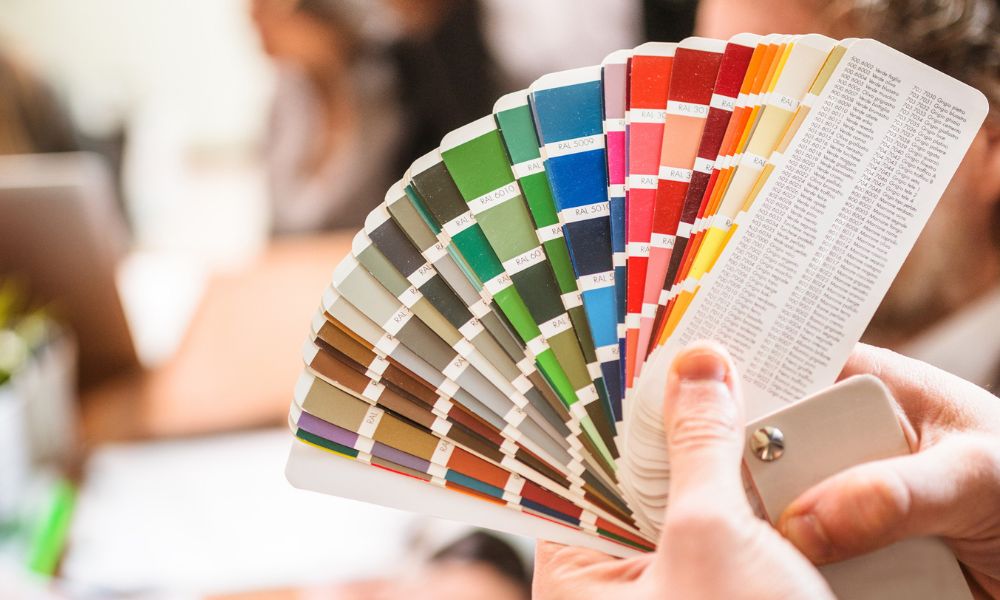 When printing graphics onto different mediums, there are four main color systems you can use: RAL, CMYK, RBG, and Pantone. Many people choose to use Pantone, but how does it work for package printing?
In this quick overview, we answer the questions about what Pantone is, why you should use it, how it works, and how Golden West Packaging incorporates this system into its products.
What Is Pantone?
Pantone is a universal color-matching system used in various industries, including graphic design, architecture, fashion, makeup, and more. First introduced in the early 1960s, Pantone allows designers to match specific colors regardless of the process used to produce them. For example, it can specify a color that cannot be mixed in CMYK. This helps manufacturers and designers avoid color deviation between the design and the finished product.
Why Use Pantone for Printing on Packaging?
Designing a graphic for packaging starts with a digital image. The colors you see on a screen can change drastically once they're physically printed on a medium such as corrugated cardboard. Using the Pantone color-match system eliminates color discrepancies between print and digital media.
This process can also save you time and money because you're guaranteed a color match every time you print the design. It's also easy to reproduce the same graphic design on various types of mediums.
How Does the Pantone System Work?
The Pantone Formula Guide has over 2,000 colors, each assigned a specific number. Because each color name is a number (e.g., 17-1345), individuals working on a project in several locations across the globe know they're using the same color by the identification number. Or this can work for a business-client relationship. For example, if you're designing a graphic for a client who wants a classic blue color, you can avoid giving them an incorrect shade by choosing and using a specific Pantone color, such as 19-4052.
Pantone Printing With Golden West Packaging
When you work with Golden West Packaging for corrugated box printing, there are several printing options you can choose from. If you want consistent color throughout your packages, consider using our Pantone and Pantone Metallic printing options.
We recommend using this color-matching system when printing multiple packaging mediums throughout the year. For instance, if you need the same graphic on your packaging but order in different quarters, the Pantone system can guarantee the same colors every time so your product packaging always looks the same.
Now that you know more about how Pantone works for package printing, is this a color-matching system you would consider? Consistency is key when designing graphics for various mediums. If you have questions about how you can incorporate the Pantone system into your product packaging, give Golden West Packaging a call!